Whether it's for a kid's party or you just feel like re-living your childhood, this breakfast cereal based slice is easy and fun. Add smarties or gummy bears to the top if you don't feel like you're getting enough refined sugar in your diet (and if you like the colours).
For that added sugar rush, serve with red cordial. Makes 12 squares.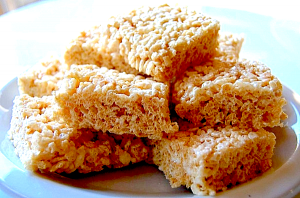 3 tblspns butter
1 packet marshmallows (10 oz)
6 cups rice bubbles
Melt butter in a large saucepan, over a low heat. Add marshmallows and stir until completely melted. Remove from heat. Add rice bubbles and stir until coated. Coat a baking tray (13x9x2 inches) with cooking spray and press in the rice bubble mixture using a spatula. Cool and then cut into 2 inch squares. Serve same day.