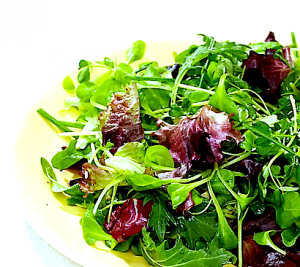 The lunch rush had died down in the cafe and the only people left sitting there were Ana and some guy dressed in black tapping intently away on his MacBook Pro. He had a look of earnest concentration on his face and Ana had been trying to figure out what he was working on. It certainly seemed to be something very serious.
She crammed a forkful of salad into her mouth. It was good salad – fresh and crisp with a perfectly balanced sweet/tart dressing – but it didn't stop her wishing it was cake or, better still, cake with ice cream. But ever since the proverbial shit had hit the fan, Ana had been enjoying a bit too much cake. The too-tight waistband of her skirt was a constant reminder of that.
She tapped her foot repeatedly on the ground, which earned her a disapproving frown from her companion. She was jittery as hell and the second coffee had perhaps not been a wise choice. Pull yourself together, she chided after managing to repeatedly send her fork clattering to the floor, earning her another disapproving frown. It wasn't like Tom was a total stranger; he was her husband for goodness sake!
Although, you wouldn't have known it at the moment. She'd been living with her parents since Tom had given her her marching orders and, even though they'd seen each other a few times, they were both unwilling to concede to the demands of the other. He wanted Ana to apologise to Sarah; Ana wanted him to support her accusations.
"I'm sorry I'm late," he said breathlessly, when he eventually rushed in. "We had this meeting that went overtime and then…" He trailed off.
"Let me guess," Ana said before she could stop herself, "Sarah needed you for something?"
Tom's shoulders sagged. "I don't know why you can't just admit that you acted badly and apologise."
"Because she's a lying, stealing, plotting bitch, who has made it her mission to ruin my life," Ana hissed at him.
"Oh, grow up!" Tom rolled his eyes. Every single time they met it was the same thing. "If I do recall, Ana, you stormed into her house…"
"…It's my house. I own it."
"Fine, you stormed into the house that she rents from you and tore her bedroom apart looking for some fictitious underwear that you claim she stole to… what? To destroy you?" He gave a weary sigh. "When are you going to realise Ana that the world doesn't revolve entirely around you?"
"I know she did it," Ana said, folding her arms across her chest. "And until you support me, then this – we – aren't going to work."
"Whatever you want Ana." Tom pushed his chair back and stood up. He didn't need this right now. "I just hope you realise that you are throwing away your life based on something that you have no proof of. Sarah is willing to drop the whole thing; I don't know why you can't behave in a mature manner about this too." With that he turned and walked out of the cafe, casting a sad glance towards Ana on his way through the door.
The guy in black had obviously heard everything. His disapproving frown had changed to a small smirk. Ana ignored him. I'm going to prove it to Tom, she thought angrily. And then he'll come grovelling back to me.
But how? What on earth could she do?
All of a sudden it hit her. Of course! It was a sneaky, nasty plan, but she really was at the end of her tether. Sarah had taken her husband, her housemates and her career. It was this or nothing.
The guy in black was still smirking as she snatched up her handbag.
"What are you smiling at?" Ana snapped at him.
He looked her cooly in the eye, but didn't say anything. Ana stuck out her tongue at him and stormed out the door.
It was time to go shopping.
***
She glanced about her as she walked quickly towards her old house. She was pretty sure that no one would be home. Willow had gone to her parent's place for a while and both Mia and Sarah would be at work. Ana felt a pang for her friend – how horrible that she had finally found someone as wonderful as Robert and he had died. Ana couldn't even imagine what that would be like.
She put her key in the lock and turned it slowly, pushing the door open. She winced, waiting for the familiar creak, but it didn't come. Someone must have oiled it, Ana thought. She called out, a contingency plan forming quickly in her mind should someone actually be home.
There was no answer. Good.
She took the stairs quietly up to the top floor and pushed the door to Sarah's room open. It looked innocuous enough, but Ana knew that evil lurked within. She dismissed the thought of rummaging through the draws again: the lingerie hadn't been there last time when Sarah wasn't expecting anything; she would have made sure it was even more well hidden now.
Ana opened her handbag and took out her brand new purchase: a tiny spy camera. Amazing the things you can buy these days. She'd ditched the packaging at the shop, just in case someone was home and wanted to see what she'd bought, but kept the instructions and read them carefully. She knew that she'd probably only get once shot at this and had to get it right. She looked around the room and wondered where to put it. The dresser was too obvious; attaching it to a picture was risky. The ceiling rose! Of course! Ana grinned as she climbed up on the the bed and affixed the minuscule device to the light fitting that hung from the centre of the decorative ceiling rose. Ana lay on the bed and stared up. The camera was barely visible amongst the light globes; you'd only see it if you were looking for it and she hoped that Sarah wouldn't be doing that.
Feeling very satisfied, she stuffed the instructions in her back pocket, and made sure the room was exactly as she left it. She gave one last glance up towards the camera. The guy she'd bought it from had assured her it was the best on the market for the money, and even though it didn't transmit sound, all Ana needed was one shot of Sarah doing something dodgy and she'd have her. She couldn't wait to get home and check the live stream.
There was a creak in the hallway and Ana froze. Another followed shortly after. Someone was coming up the stairs!
Ana cursed whoever had oiled the front door.
Please let it be Mia, Please let it be Mia, she begged silently. At least then she'd be able to slip out once Mia jumped in the shower, as she always did after she finished work.
Footsteps paused outside Sarah's room. The door swung slowly open. Ana stood there, clutching her bag, searching desperately  around for somewhere to hide.
This was bad.
Really bad.
For the first time Ana wondered whether breaking into someone's bedroom and planting a hidden camera was a criminal offence. She suspected it was.
Sarah was looking down at her mobile phone and smiling as she walked into the room. She didn't see Ana immediately. But then, she did. She screamed and dropped the phone.
"What the hell are you doing here?" she yelled.
"I… I just…" Shit. Ana didn't have a contingency plan for being caught in the act of breaking into Sarah's bedroom.
Sarah grabbed her phone from the floor and pressed a number on speed dial.
"Great," Ana said. "Call the police. I'm sure they'll love to hear about how you stole a credit card."
Someone on the other end answered.
"Ana's here," Sarah said, hysterically. "She's in my bedroom."
Ana could hear mumbled words.
"I don't know," Sarah replied. "She was in here when I got home."
Ana was starting to think it wasn't the police at all. She had a sneaking suspicion she knew who it was, and if she was right, it was way worse then the cops.
"And Tom? Please hurry. I don't know what she's going to do to me."
***
Tom arrived in record time. Ana and Sarah were in exactly the same positions, neither wanting to make a move in case the other one did something crazy.
He shook his head sternly. "What are you doing here, Ana?"
"I left something last time," Ana said cooly. "I was looking for it."
"She's lying," Sarah cried. "She was trying to steal something."
"Is anything missing?" Tom asked.
Sarah shook her head. "I don't think so. I think I caught her when she just arrived."
"Open your bag," Tom said to Ana.
"What?"
"You heard him," Sarah piped up.
"Oh, you just shut it," Ana said furiously. "Otherwise I'll hit you again."
Sarah was about the protest but a look from Tom stopped her. She smiled sweetly at him and went and stood my the door, folding her arms across her chest.
Tom rifled through Ana's bag. "She hasn't taken anything," he said finally, giving Ana her bag back.
"That's a relief," Sarah said. "Thank you for coming over Tom. I was so scared. I didn't know if she was going to hurt me or…."
"Well, this will not happen again, will it?" Tom said, cutting her off and turning to Ana.
She shook her head.
"Let's go," he said, taking her arm. He led her downstairs like a naughty child and opened the front door.
"I'm so disappointed in you Ana," he said. "This really is the last straw."
"Tom, if you'll just let me explain…"
"I've heard it all," he said brusquely. "You need help, Ana. And I can't give it to you. I think that we should consider getting a divorce."
Ana's mouth dropped open. "No! You can't, I mean, we can't."
She pleaded with him, tears welling up in her eyes. She had never wanted it to go this far. But Tom was having none of it. He looked at Ana as though she were a blip on the face of the earth, an annoyance that he'd much rather be rid of.
"My mind is made up," Tom said, closing the door in her face.