A perfect snack or a meal unto itself, mini burgers give you the delicious burger taste without so much of the guilt (well, unless you eat the whole plate!). Great for barbeques, cocktail parties or when you're at a bar on your own in Ibiza.
Serve with your favorite cocktail or ice cold beer. Makes 8 mini burgers.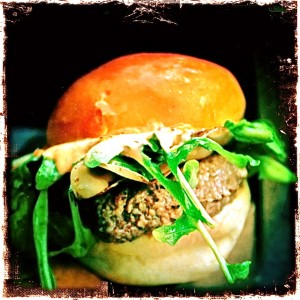 Burgers
1 kg ground sirloin
Salt and pepper, to taste
120 grams Stilton cheese, cut into 8 slices (if you can't get Stilton, another good quality blue cheese will do)
8 mini brioche rolls, split
Fancy lettuce of your choice for serving
Onion Jam
2 tbspns extra virgin olive oil
1/2 large red onion, thinly sliced
1 cup dry red wine
2 tablespoons red wine vinegar
2 teaspoons honey
1 thyme sprig
Salt and pepper to taste
In a medium saucepan, heat 2 tbspns olive oil over a low heat. Add onion and a pinch of salt. Cook until softened (about 10 mins), stirring occasionally. Make sure you don't have to heat too high or the onion will burn. Add the red wine, vinegar, honey and thyme, simmering until the liquid has evaporated (10-15 mins). Season with salt and pepper and remove the thyme stalk.
Season the sirloin with salt and pepper. Mix gently and shape into eight patties (approx 1 inch thick). It's best to cook the burgers on a grill, but if that it all just too hard then use a thick bottom frying pan. Grill the burgers for about 2-3 mins each side, turning once (this should give you a nice, blackened outer and a pink middle). Just before removing the burgers from the heat, top each with a piece of Stilton. Transfer to a platter while you lightly grill the buns. Top bun with burger, onion jam, lettuce and serve immediately. Enjoy!