This salad is a textural sensation: Chewy barley with smooth cauliflower and crunchy almonds. It tastes amazing too, the freshness of the gremolata perfectly complementing the nutty grain and seasoned cauliflower.
Serve with a side of blanched green beans for a light meal, as an accompaniment to a main, or as an appetizer. Serves about 4.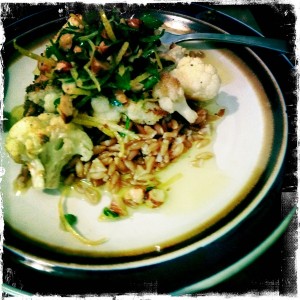 Barley and Cauliflower Salad
1.5 cups pearl barley
1 head cauliflower, cored and broken into bite-sized florets
Extra virgin olive oil
Juice of 1/2 lemon
Salt and pepper to taste
Gremolata
1/4 cup chopped fresh flat-leaf parsley
2 tablespoon roasted almonds, roughly chopped
1 teaspoon grated lemon rind (use the medium side of your grater, not the smallest one)
1.5 tablespoons fresh lemon juice
1.5 tablespoons olive oil
1 garlic clove, minced
Salt and pepper to taste
Preheat oven to 200 degrees C.
In a large saucepan, bring 2.5 litres of water to boil. Add barley and 1 tsp salt. Return to boil, then turn heat down to low and cover, simmering until barley is cooked but chewy – about 20-25 mins.
While barley is cooking, toss the cauliflower florets with a good slug of olive oil and half the lemon juice and spread in a single layer on a baking tray. Season with salt and pepper. Cook until tender and lightly browned – about 20-30 minutes (depending on your oven).
Drain and transfer the barley to a large bowl and add the rest of the lemon juice and a couple of tablespoons of olive oil (you want the barley to be coated, but not dripping in oil). Season with salt and pepper.
Make the gremolata by mixing all ingredients together and allowing to stand.
Add half of the cooked cauliflower to the barley, transferring the other half to a food processor and pureeing. Plate before serving by diving up the puree and putting onto individual plates. Add the barley and cauliflower salad on top of this, then evenly divide the gremolata and pile on top. Serve immediately. Yum!